Mr Rimmel's Shop is St Valentine's Headquarters
From thence, No. 96 Strand, London, proceed those elaborate devices of all hues and scents, those doves, and hearts, and darts and floral complications which attract gazers to the window and perfume the whole street. Valentines everywhere! of all sorts and sizes, of all prices and for all purposes; from the child's penny card, with its pretty posy of roses and lillies in the middle and the quaint little love-legend beneath to rich lace fans, pearl-handled and jewelled, worth ten pounds and more.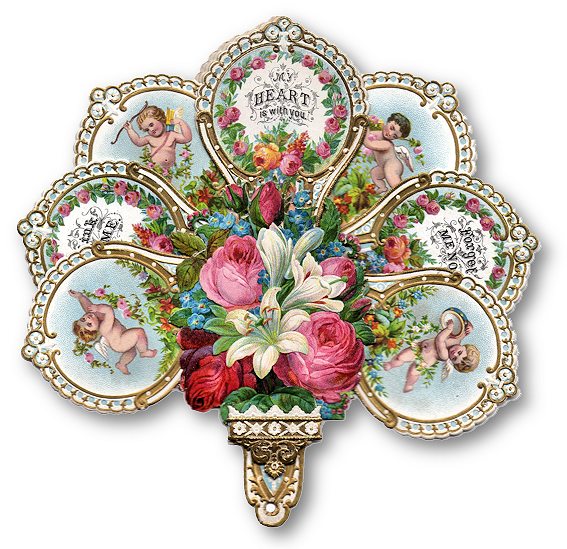 Rimmel's New Perfumed Valentines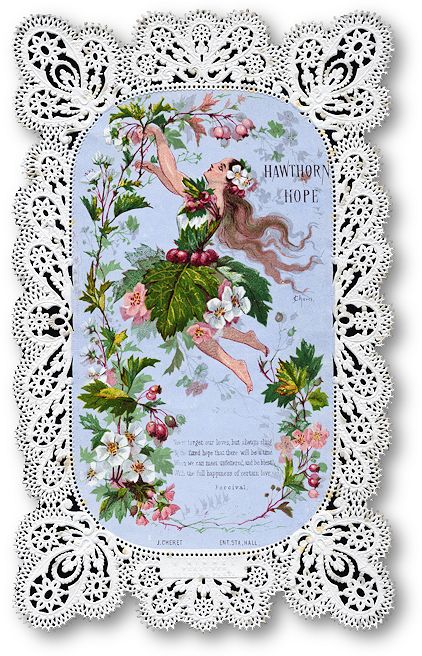 His valentines may be meant only for a season; but they teach while they gratify, and though mainly designed to amuse, inculcate lessons of which artists and Art-lovers cordially approve.
Animated Flowers
One from a series of twelve valentines, illustrating the Language of Flowers in a novel and charming manner.
Each flower is represented by a nymph coquettishly attired in floral garb and the sentiment it expresses is appropriately conveyed by some quotation from a well known poet.
The designs, due to Jules Chéret's spirited pencil, are executed in the most superior style, and may be pronounced perfect masterpieces of chromo-lithography.
Delicate, poetic and beautiful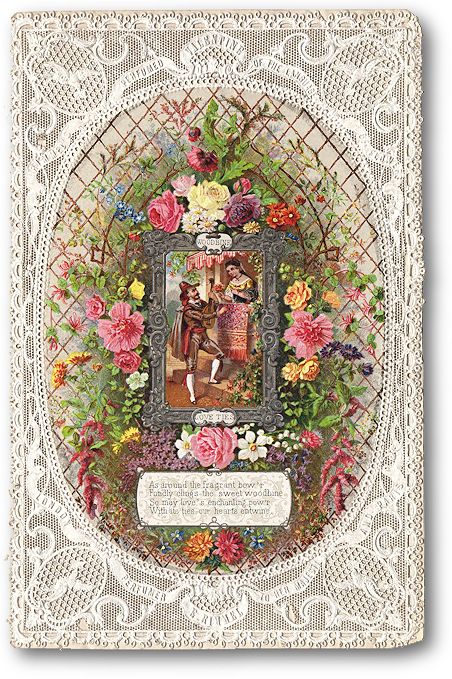 Mr Rimmel's Valentines are something more than specimens of artistic design and admirable workmanship - they are poetry itself.
Woodbine: Love Ties
As around the fragrant bow'r
Fondly clings the sweet woodbine
So may love's enchanting pow'r
With its ties our hearts entwine.
Recollections of the Paris Exhibition 1867
We have here a valuable as well as an interesting record of the Universal Exhibition. Mr Eugene Rimmel has obtained honourable prominence, not only as regards the business he specially pursues, but as the producer of many admirable works of Art.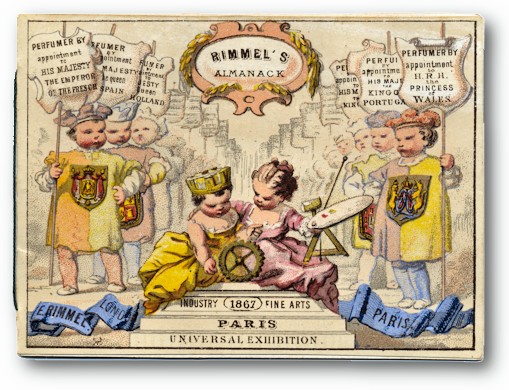 Valentines of the most novel and recherché character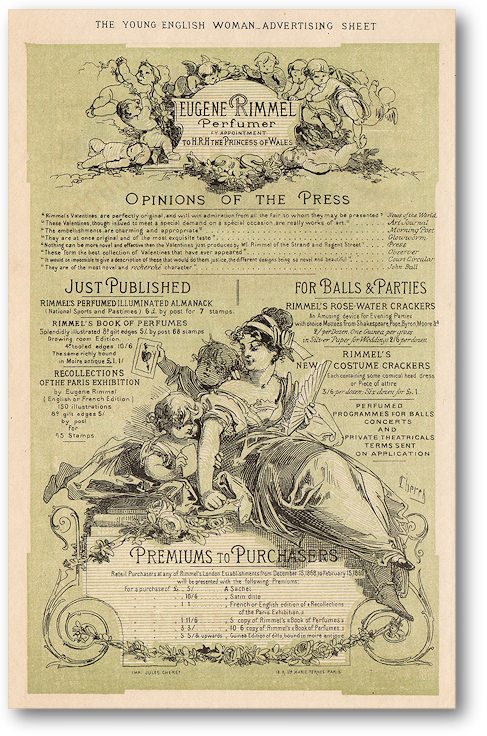 A pretty and graceful almanack
Mr. Rimmel's Almanack has again appeared. It is, as heretofore, in chromolithography and, of course, perfumed. For "the small sum of sixpence" a really beautiful series of coloured prints may be obtained, drawn by one of the most accomplished artists of France.
The little book is made for the waistcoat pocket. It is full of dates, being a miniature guide to the year 1863. The drawings are charming and rich in character; it is perfumed by a varnish composed of fragrant gums.
It would be impossible to issue such a production at the price demanded for it; but no doubt it is to be accepted as one of the modes that Mr. Rimmel takes to advertise his perfumes, which are found and valued in every country of the world.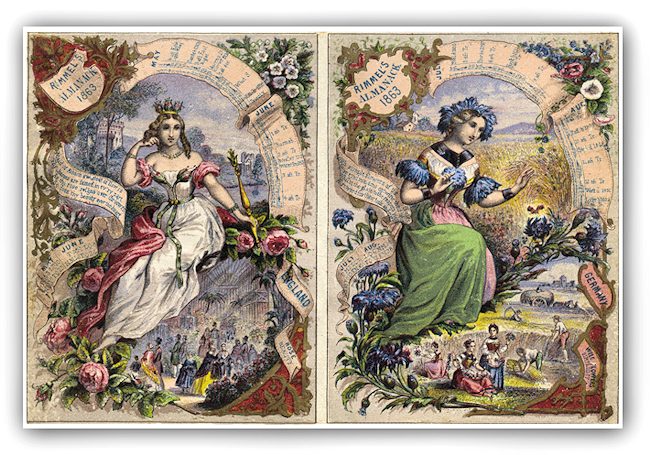 Cupid's Post Office
The novelties issued this season fully maintain the high position
Mr Rimmel has already attained.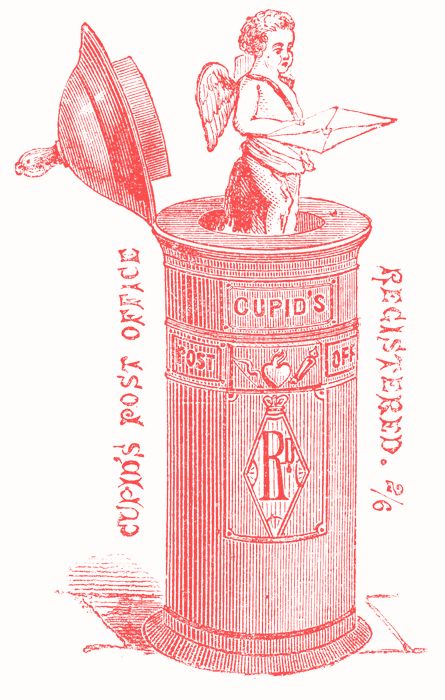 Hearts & Diamonds Comic Almanac 1879
Tis at first the heart plays the leading part in the game of a young marrying maid. But lo! soon after, cuts in the tempter, Diamonds are trumps, thus the odd trick is made.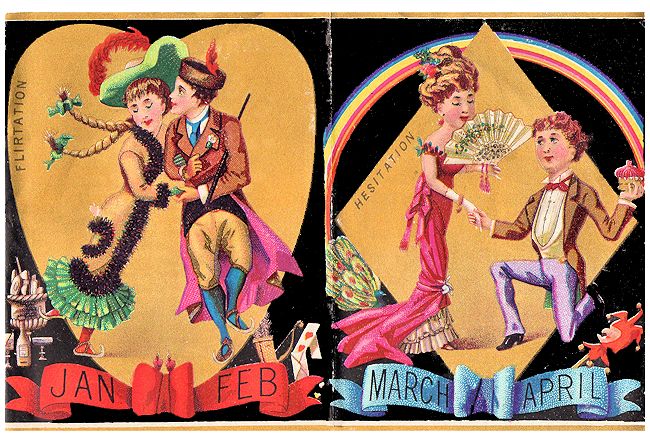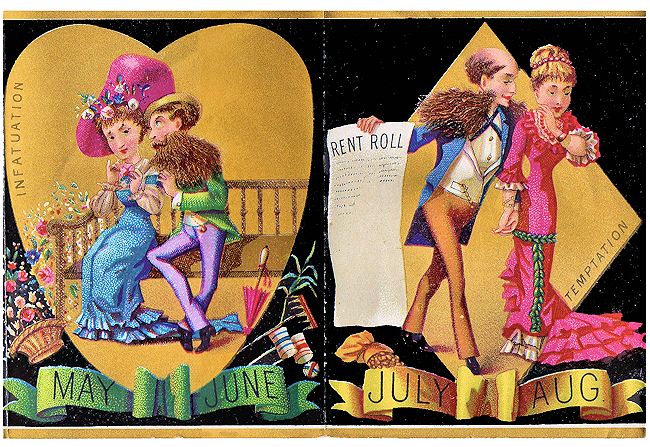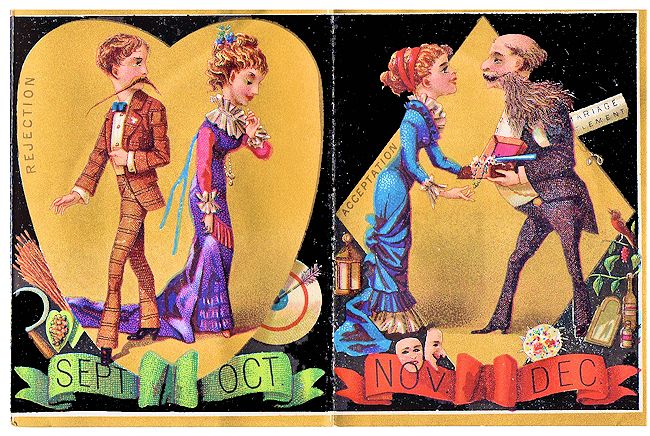 National Valentine Collectors Association (NVCA)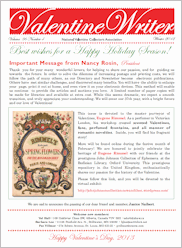 Valentine Writer is the newsletter of the NVCA. The Winter 2012 issue is devoted to Eugene Rimmel, of London and Paris, the eminent 19th century perfumer who pioneered the perfumed valentine and almanac.
Download the PDF to read, print or save this special issue.