NVCA Auction 2010-4
Deadline for Bids: January 20, 2011


Images and details of auction lots are available on www.valentinecollectors.com for closer inspection, with additional images. All items are described to the best of our ability and may be returned if not as described. Sizes in inches are approximate. Minimum bids are stated; increments are $1.00. Postage is extra.

Please contact Nancy Rosin if you have items to sell or if you wish to purchase items from our auctions. Your participation is important to us, as 20% from the proceeds are used to maintain our finances.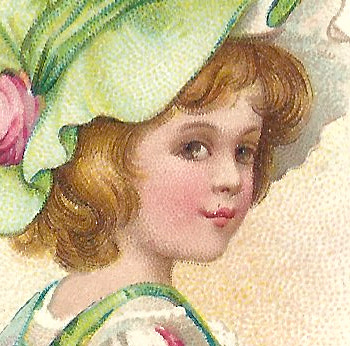 Click here to view the auction items.
(Click on thumbnails to view large images)


Many of these pre-Valentinefs Day lots consist of several items. Space does not allow images of all in the newsletter, but they may be seen on our website. For any further details, do not hesitate to contact me. Letfs recycle Love!!


Lot 1. Volland die-cut boy and girl; 2 Cupid heart love tokens, - one signed, Tuck; 3 postcards, one Tuck. 7 items. $25.

Lot 2. Majestic open-out, elaborate gazebo. Fragile, minor damages, needs TLC.
9 1/2 in. x 12 in. $75.

Lot 3. Fancy ladyfs green paper lace photo album, circa 1870; and a letter valentine and envelope (2 1/4 x 3 7/8) to Whiting, VT, ink-stamped g5, 19 Febh, back flap has diamond-shaped wafer with bar of music and message: NOWfS THE HOUR. $60.

Lot 4. 2 Layered collage cards: pink W 1/2 , and a 3-layered one with silver base, scraps, darker lace. $30.

Lot 5. Lace quarto, satin center with built-up wreath and scraps, makerfs name removed from central area, but appears to be Mansell. Minimal edge damages. Note: scan is darker to show lace detail. 8 x 10, circa 1850. $125.

Lot 6. Gilded Jewish New Year stationery with scrap of family at dining table, blank inside; and an open out card with roses and green cellophane, as for a Valentine; English and Hebrew verse stamped on the base. Opened, reveals Rabbi and worshipers in Synagogue holding floral branches. Head of one dove is missing. $80

Lot 7. Crisp heavy cardboard open-out: women in glen, one feeding hearts to swans, the other, leaning upon stone column, watching cherubs draping rose garlands. Signed: To my Cherub Grandma. $45.

Lot 8. Transportation motif -- four die-cut cards depict the many ways to deliver Love: horse carriage, train, bus, and airplane. $30.

Lot 9. Nine lovely cards -- perfect for giving or saving -- and one die-cut cherub with pull-out rose. $50.

Lot 10. Three die-cut movables; a parrot attached to cage with metallic chain, a dog chained to the doghouse, and one parrot delivering a Valentine to a little boy, in the style of Twelvetrees; approx. 7hx 7h $50.

Lot 11. Two collage cards: one is a four-layered collage with scraps, blue satin and silk fringe -- slight tear on reverse, a sweet Whitney/1-- a yellow base, red center, and another. $35.
Lot 12. Transportation motif -- easel-backed heart standup shows a cannon burst of hearts and a helium airship (zeppelin) decorated with heart and garland of roses; and a moveable die-cut airplane. $25.

Lot 13. Printed Valentine letter addressed Fair Lady and signed, Valentine, envelope (2 1/2 x 4 1/2) addressed and sent from Albany, stamped g2h in red ink. Cameo-embossed wafer seal on reverse flap: gEnquire Withinh. $75.

Lot 14. Elegant layered Valentine, brightly colored motto sheet tipped inside, with a penned message on the reverse; and a smaller Esther Howland, motto printed on inside, embossed NEV 5 on reverse, and printed code letter M. $100.

Lot 15. Four postcards: child amid daisies is artist-signed J.Johnson, on reverse, Boston 1914; Winsch, 1912 - woman in a golden cartouche; doves and embossing; and one designed as a slate -- the words written as a chalk message. $15.

Lot 16. Four movables -- some in need of TLC: bike messenger, hat is mended; googly-eyed girl -- eyes move but something missing from the base; marching pigs with boy missing a shoe; artist paints message upon a heart; also lilac and lovebird charm string with original tasseled cord, and a die-cut floral heart. Six pieces. $25.

Lot 17. Six movable die-cut cards -- fun childrenfs styles -- all fine condition. $30.

Lot 18. A sweet pair of little girls with movable sunbonnets, signed Tuck. $20.

Lot 19. A pair of heart-shaped cards with red ribbon bows, numbers inserted into slits -- one is 1, the other 2; signed Tuck. $25.

Lot 20. Tuck card opens to reveal image of a beautiful Victorian woman. $25.

Lot 21. Two adorable children, artist-signed Mary Frances Hayes, published by Nister. $25.
Lot 22. Holiday group of 14 pieces, including W, love tokens, hidden name, place cards, and a golden pull-down. $50.

Lot 23. Octavo collage, clean and crisp red and pink gMh series (McLoughlin probably), and elegant square card, blue/gold, and another. $50.

Lot 24. McLoughlin-style blue collage with envelope, plus square and heart-shaped examples. $40.

Lot 25. Two blue McLoughlin-style collages with envelopes, one small scrap missing, $40.

Lot 26. Fourteen hearts to share -- beautiful variety. $70.

Lot 27. Amusing die-cut cards -- monkeys to a girl with applied hair! 7 cards $45.

Lot 28. A Loverfs Dozen -- 14 ready to send! More images on request. $75.

Lot 29. Transportation motif -- baby carriage, wheelbarrow, camel, a bicycle, a snail/boat, and four cars! $70.

Lot 30. Pull downs, children, etc. Valentinefs Day Holiday group of 14 -- a loverfs dozen. $60.




Prices Realized
Auction 2009-1:

2-$15, 5-$40.

Auction 2009-2:

15-$60, 18-$10.
Auction 2009-3:

1-$24, 4-$40,10-$10, 11-$64,12-$10,14-$40, 15-$40,16-$40, 17-$90, 20-$50.


Auction 2009-4:

2-$16, 3-$5, 8-$8, 15-$30, 16-$35.


Auction 2010-1:

2-$75, 5-$65, 6-$100, 7-$126, 9-$40, 10-$35, 12-$40, 17-$15, 19-$36, 20-$125.


Auction 2010-2:

1-$30, 2-$11, 3-$10, 5-$15, 6-$8, 7-$36, 8-$23, 9-$10, 12-$56, 13-$100, 14-$52, 15-$83, 17-$72, 18-$51, 19-$51, 20-$76.


Auction 2010-3:

7-$35, 8-$40, 14-$125, 16-$100, 17-$25, 20-$30.